Description
FERRARI DEIS II DIAGNOSTIC TESTER TOOLS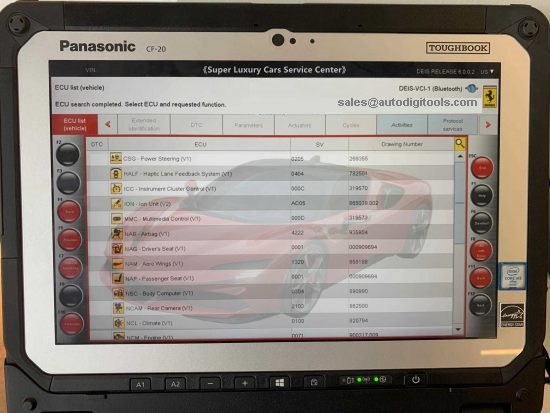 Language:

English, Italian, Chinese, German, French, Spanish, Japanese.


Delivery time:

This can be sent to any country within 3-5 work days after system activation is complete.
Compared with the first generation [ DEIS I ], the second generation [ Ferrari DEIS II ] adopts the latest Panasonic CF D1 Tablet or CF-20 Laptop, which has faster operation and better diagnosis functions.
The system is automatically updated to maintain the new model that supports the latest production release in real time.
*

Ferrari DEIS I & II  system Diagnostic:

There are no additional or extra charges for the tester within the next five years of  paid activation.
From after the 5th year on, [ DEIS II  System ]  Will  charged you €5,838.00 EUR

for the New system Activation

& Renewal Services.

Note.:

  After or Before  the 5 years unlimited Access is outdated, you'll have to pay for additional license renewal  services after the initial  expiring date is complete.
* Tool warranty period is 5 years:  We also provide long-term technical service support. If the factory has a new diagnostic tester tool update Substitute, we can also recovery or buy back your tools equipment.
DEIS I & II Tester kit Package List or Contents :
– DEIS Interface with Continental socket link
– Panasonic CF-D1 Tablet PC or Panasonic laptop computer
– Universal mains adapter
– External DVD drive
– Car socket battery charger
– Panel for LCD display
– Universal mains power adapter
– Smart Card
– DEIS Router
– MVCI board
– DEIS License
– DEIS carry case
– Ethernet cable
– DEIS PC power unit
– DEIS PC stylus chord
– DEIS PC stylus
– DEIS PC battery
– DEIS PC Hard Disk
– Router power unit
– MVCI board power unit
– EOBD cable for MVCI board
– Use and maintenance handbook
The tool supports the diagnostics on the following FERRARI vehicles:
> 430 and later models, Automatic system update, In time can be service latest models.
The tool functions are:
> Reading and deletion of DTC errors.
> Reading and acquisition of vehicle parameters
> Actuators
> Cycles (short trip)
> ECU flashing (updates)
> ECU configuration flashing (Proxy)
> Vehicle configuration modification
> Technical documentation
Available for the following models:

296 GTB | SF90 Spider | 812 Competizione A | 812 Competizione | Portofino M | Roma | SF90 Stradale | 812 GTS | F8 Spider | F8 Tributo | Monza SP2 | Monza SP1 | 488 Challenge | 488 Pista Spider | 488 Pista | Portofino | 812 Superfast | GTC4Lusso T | LaFerrari Aperta | GTC4Lusso | F12 tdf | 488 Spider | 488 GTB | 458 Challenge | 458 Speciale A | California T | 458 Speciale | LaFerrari | F12 berlinetta | FF | 458 Spider | 458 Italia | SA Aperta | 599 GTO | California | 599 GTB Fiorano | F430 Challenge | Scuderia Spider 16M | 430 Scuderia | 612 Sessanta | 612 Scaglietti | F430 Spider | F430 | Enzo Ferrari | 575M Maranello | 360 Spider | 360 Modena | 550 Barchetta | 550 Maranello ….etc