Description
BOSCH KTS 590 DIAGNOSTIC UNIT
Description
The Bosch KTS 590
 (Esi Software Included)
Integrated dual-channel oscilloscope: Use the real-time view of electrical signal fluctuations for very precise testing of complex electrical systems.

Integrated two-channel multimeter: Quickly find and fix electrical problems

Fully compatible with PassThru: Call up and reprogram the software of the vehicle manufacturer's control unit for efficient everyday life in the workshop.

Parallel diagnostics: The module can communicate simultaneously with up to three CAN and K-Line interfaces and enable fast and productive diagnostics.

Bluetooth connection with a range of 100 m: Very practical – increase the range of your workshop and thus your productivity

Supports Bosch Easy Connect and other Bosch vehicle-specific adapters: Easily expand diagnostic capacities with a range of vehicle manufacturer-specific non-OBD cables

Ideal for ESI[tronic] 2.0 Online Software (sold separately): Intelligent system information, troubleshooting and support for quick repairs and maintenance

Runs on all Windows PCs on which ESI[tronic] 2.0 Online has been installed and licensed: Remote options to control diagnostics and repair in your workshop.
Supports "Easy Connect" and other Bosch vehicle specific adapters
Enhanced measurement technique included to support diagnosis and vehicle repair
Enhanced ECU diagnosis for DoIP (Diagnostics over Internet Protocol) the first product in IAM with this feature
Parallel or simultaneous diagnosis possible for a faster overview and reading of values
LED display
Measuring all actuators and sensors in the vehicle
Multimeter measurements during guided trouble-shooting with automatic transfer of measured values
Both oscilloscope channels are isolated
Sampling rate: 20MS/s
Intelligent and future-proof thanks to internal OBD interchangeable adaptor
Universal OBD plug: Allows connectivity to vehicles with 14 V and 28 V vehicle electrical systems
Clear communication thanks to multiplexer and cable adaptor recognition: K and L line, SAE and CAN can be switched to all possible terminals on the OBD plug
Reliable multiplexer actuation
Automatic control unit search function
Integrated OBD interchangeable adaptor
Demo mode allows the 590 to be used without a vehicle connected
Resistance measurement with extended measuring ranges
Continuity tester for fault localisation
Diode measurement for component testing
Voltage measurement with enhanced measurement functions
Bluetooth Class 1 standard with a range of up to 100 m
Fully Passthru compliant
Operating systems: Vista Home Premium, Vista Business, Windows 7, Windows 8
Powered by ESI[tronic] 2.0
2-channel multimeter & 2-channel oscilloscope
KTS 590:  Zweikanal-Multimeter und Zweikanal-Oszilloskop
PC-Verbindungen: USB 2.0, Bluetooth® Klasse 1
Betriebsspannung:  8 V DC-28 V DC
Stromverbrauch über Fahrzeugbatterie oder Netzstrom:   < 10 Watt
Staub- und Wasserschutz:     IP53
Bandbreite des Multimeters:    100 kHz
Samplingrate des Oszilloskops:   20 MS/s
Fahrzeugprotokolle:  ISO 15031, ISO 22900,
SAE J2534-1 und -2
(PassThru), ISO 9141-2
(K und L), SAE J1850
VPW und PWM,
CAN High Speed ISO 11898,
ISO 15765-4 (OBD), CAN Single Wire, CAN
Low Speed, ISO 13400:    (Diagnose über IP),
und andere fahrzeugspezifische:   Protokolle
Abmessungen (B x H x T):   125 x 44 x 180 mm
Betriebstemperatur:   5 °C bis 40 °C
Scope of delivery
-OBD connection cable (1.5 m)
-Power supply unit
-Test lead/probe set
-USB connecting cable (3 m)
-Trolley mounting parts set
-Bluetooth® USB adaptor
-Storage case
Price is for the hardware only
Software
Is available for 12 months and 36 months periods get in touch for current pricing……
Adapter cable "EasyConnect" for certain vehicles
| | |
| --- | --- |
| Adapter cable Mercedes Benz 14-pin (Sprinter, Atego) | 1 684 463 594 |
| Adapter cable VW/Audi | 1 684 463 611 |
| Adapter cable Fiat Group 3-pin | 1 684 463 613 |
| Adapter cable BMW 20-pin | 1 684 463 631 |
| Adapter cable Daewoo/GM/Holden 12-pin | 1 684 463 632 |
| Adapter cable Honda 3-pin and 5-pin | 1 684 463 634 |
| Adapter cable KIA 20-pin | 1 684 463 636 |
| Adapter cable Mazda 25-pin | 1 684 463 637 |
| Adapter cable Hyundai/Mitsubishi 12-pin | 1 684 463 638 |
| Adapter cable Nissan 14-pin | 1 684 463 639 |
| Adapter cable Suzuki 6-pin | 1 684 463 641 |
| Adapter cable Toyota 17-pin | 1 684 463 642 |
| Adapter cable Toyota 23-pin | 1 684 463 643 |
| Adapter cable Renault 12-pin | 1 684 465 582 |
Adapter cable for certain vehicles with banana plug (Uni-4 Adapter 1 684 463 539 required)
| | |
| --- | --- |
| Adapter Mercedes-Benz 38-pin | 1 684 485 382 |
| Adapter cable PSA 2-pin | 1 684 460 181 |
| Adapter cable for Storm (connection to the cigarette lighter) | 1 684 460 202 |
| Adapter cable Opel, Vauxhall Multec | 1 684 463 410 |
| Adapter cable Rover | 1 684 463 439 |
| Adapter cable Ford | 1 684 463 440 |
| Adapter cable Daewoo with strength adjustment to 5V | 1 684 463 495 |
| Adapter cable MAN 37-pin (EDC, MS5) | 1 684 463 498 |
| Adapter cable MAN 12-pin (EDC, MS 6.1, MS 6.4 CR, EDC 7C) | 1 684 463 499 |
| | |
| --- | --- |
| Segment brochure (PDF) | |
| Datasheet (PDF) | |
| Program and Prices Workshop Equipment 2022 (PDF) | |
| Product brochure (PDF) | |
| KTS Program Overview (PDF) | |
| KTS 590 Help Center | |
| Manuals, updates and information | |
---
Find more ads; Ask for  the Bosch UK Price List KTS Module 840 /670/650/520/530/540/550/570/200/340/250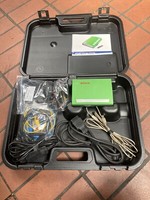 Bosch KTS 530 Diagnostic device 2-channel oscilloscope in case With Zübehör
EUR 350.00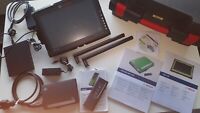 Diagnostic device KTS 540 + DCU130 + TPA200 BOSCH
EUR 1,200.00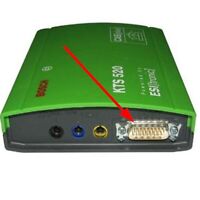 Bosch KTS Module Repair 670/650/520/530/540/550/570/200/340/26 Pin Male
EUR 180.00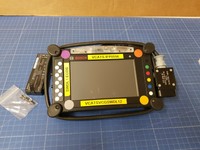 Bosch I-FLEX PLUS UNIT ASSEMBLY , OBD Scanner/Diagnostic Equipment
EUR 3,586.02
previous price EUR 4.218,85 15% discount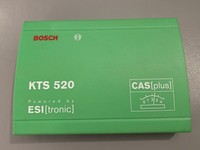 Bosch KTS 520 Diagnostic Interface – can be used for Piwis 1
EUR 477.77