Description
FERRARI MASERATI SD2 SD3 SDX DEIS DIAGNOSTIC TESTER TOOL
Ferrari Maserati SDX Diagnosis System Ferrari Maserati SD2 SD3 SDX DEIS Diagnostic Tester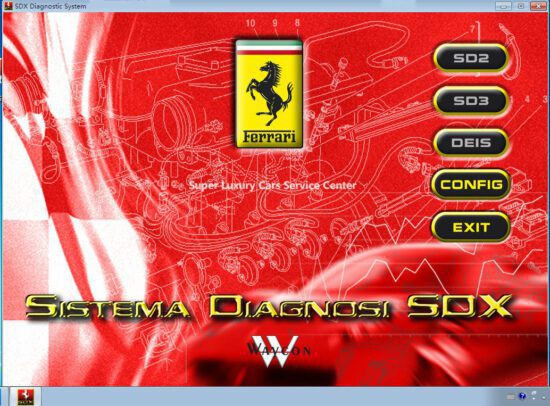 The SDX Diagnosis System is a tool bringing together all Four of the diagnostic systems produced by Ferrari Maserati S.p.A. (SD1+SD2+SD3+DEIS) in a single instrument for the electronic diagnosis of vehicles the Ferrari.
The system consists of an interface (VCI) that may be linked to a PC running Windows XP or later Windows operating system with at least 500 Mb free hard disc space and 2 Gb RAM.
The VCI, which is equipped with its own battery and may be powered from the vehicle electrical system (12V DC) or from the PC via the USB connection, has a set of buttons for selecting functions on the PC (primarily in SD2 mode).
The main programme installed on the PC features a management menu allowing selection of the SD1+SD2 application (SD2 look) or the SD3 DEIS application (new look).
The kit consists of:
– SDX Diagnostic Tester
– USB cable for PC connection
– Ethernet CrossOver cable
– ABS case
– CD/Manual
– "Octopus" cable for connecting to vehicles with no EOBD socket
– "Octopus" – Tester link cable
– cable for Ferrari standard EOBD socket
– cable for ISO standard EOBD socket.
– 2 x ISO extensions
– Vehicle battery power cable
– Cigarette lighter power cable
Tool warranty period is 3 years. We also provide long-term technical service support.