Description
FERRARI MASERATI SD3 DIAGNOSTIC TESTER TOOLS
Ferrari Maserati SD3 Diagnostic Tester.
Delivery time: can be sent to any country within 5-10 days.
Support model: It supports all Ferrari Maserati models produced before 2012.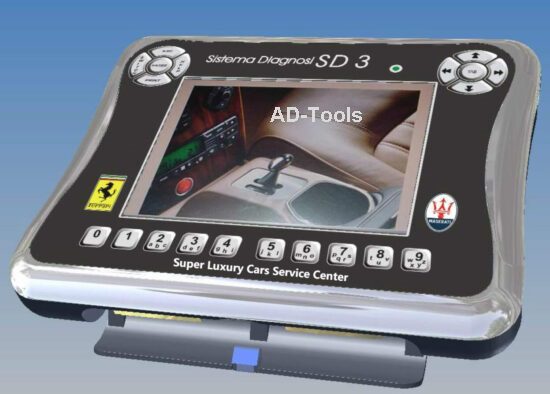 SD3 diagnostic system contains the following items in its suitcase:
· SD3 diagnostic tester
· Serial communication cable connecting SD3 / SD2 and PC (sd3-cbl01)
· multimeter cable (sd3-cbl02)
· Power adapter (sd3-cbl05)
· Eobd SD3 diagnostic cable (sd3-cbl06)
· SD2 cable with diagnostic cable (sd3-cbl07)
· Connecting cable matching SD2 and SD3 interface (sd3-cbl08)
· Power cable for cigarette lighter socket (sd3-cbl09)
· ISO 1 extension line (sd3-cbl10)
· ISO 2 extension line (sd3-cbl11)
· SD2 B-can adapter (sd3-cbl12)
· USB cable
· 10 / 100 Mbps Ethernet crossover
· SD3 wireless network card
· SD3 Manual 1
· SD3 quick guide
· CD-ROM installation disk
· 8 metal connection points for multimeter
· PC USB / wireless network card
.Tool warranty period is 3 years. We also provide long-term technical service support.