Description
G-SCAN Universal Version.
Manufacturer Specifications:
G-Scan diagnostic Tool is the latest model scan tool of GIT with many cutting-edge features such as TFT LCD with Touch Screen, CAN-Bus and the latest industrial standards built-in onboard, WiFi PC connectivity, Windows CE for quick boot up and many others.
G-SACN FUNCTION
1. DTC read and erase
2. Reprogramming
3. Special Funcitons
4. Advanced Special Functions
5. EPS Recalibrations
6. Diesel Injector Coding and Writing
7. Key Coding
8. GM PIM-BCM-ECU Linking
9. DPF Regeneration
10. DPD,DFP,Pump Initialisation
11. OEM KIA/Hyundai Support….and so much more
Highlights of G-SCAN:
1. Simple menu selection
No hassles for locating the metal tag and find the correct engine code.
When testing Japanese cars, simply select the diagnostic connector type before selecting the system to test.
No model code, no engine code, no detailed menu selections are required.
2. System Auto Search
No time consuming DTC search by "trial and error"
G-SCAN provides auto search function that tries to communicate with "ALL" systems in the car automatically.
It reports back with the available system list and, the number of detected DTCs of each system.
3.Hyundai Kia OEM S/W Package
Complete OEM software package is included.
Select Hyundai or Kia from the menu, then the OEM software is loaded.
Enjoy the complete function and performance of OEM tool for Korea's leading brands.
4.Quick Boot
G-Scan is designed to meet the market demand for a "quick boot up" tool.
A lot of expensive part had to be used for this outstanding feature, however it is fairly rewarded by quick booting speed despite its Windows CE operating system.
G-Scan system initiates in just "5.4 seconds" after pressing the POWER button which is no slower than the old "embedded type" products, and many times faster than the other Windows based ones. Good sales people know how important point this is for the workshops.
Don't waste your time just for waiting for your tool to turn on.
5.Realtime PC Interface via WiFi
G-Scan transforms to a premium PC based equipment
Utilizing Wireless LAN (WiFi), G-SCAN provides high-speed data transfer to PC that enables reliable and fast real-time PC interface.
Just like GDS, the Hyundai and Kia OEM, it provides greater user experience by switching to a PC based diagnostic workstation.
6. Flight Recording
Diagnostic data can be recorded on the road test while the car is running in the real driving condition. And recorded data (Flight record) can be replayed both on G-Scan or the larger PC screen.
7. Touch Screen
Mercy of intuitive color LCD with touch screen – it provides totally different customer experience and satisfaction.
It is so easy and simple to use, and it eliminates a lot of your time and efforts spent for the training of the customers.
8. Handwriting Memory
Touch the "PEN" button in top-right, the current screen play is captured immediately, and you can put your own handwritten memos and drawings. The captured image and the memo is saved in the memory for your retrieval or transfer to your PC.
9. Full Description
Thanks to screen control flexibility of Windows system and its 480 pixels wide screen, the full description of DTC codes and Data parameter names are supported with G-SCAN.
10. Self Test
Many of field failures are found caused by the defective cable and connector, or the problems on the vehicle side. It gives huge impact on sales by causing complaints of the customers and negative influences by the unsatisfied users.
G-SCAN provides Self-Test function that helps the customer determine whether the communication problem is caused by the base unit's internal hardware / software reasons or by the external factors.
The G-Scan Oceania Kit includes:
G-Scan base unit, 2GB SD Memory Card, Battery Pack, DLC Main Cable, SD Card Reader, Stylus Pen, Stylus String, LCD Cleaner Pad, Cable-Cigarette lighter, Cable-Battery, G-Scan User's Manual, G-Scan software applications (CD), AC/DC Adaptor, AC Power Cable, Hand Carry Strap, Carry Case …
Vehicle Adaptors:
Honda/Accura 3Pin, Mazda 17Pin, Mitsubishi 12Pin+16Pin, Nissan 14Pin, Subaru 9Pin, Toyota 17Pin(R), Toyota 17Pin+1Pin(square), Kia 20Pin-A Type Connector, Kia 20Pin-B Type Connector, Ssangyong 14Pin, Hyundai Keyless Connector-(x2), Options: Mercedes Benz 38Pin multiplexer, 20Pin, VW/Audi 2Pin (early style connector) also available …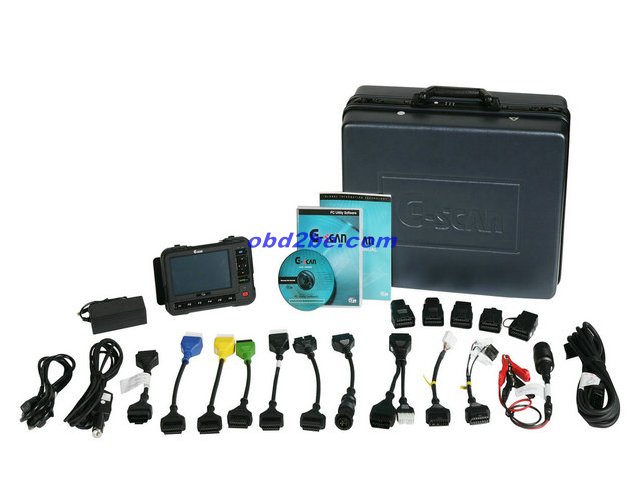 G-SACN SOFTWARE DOWNLOAD
keyword : G-Scan,G-Scan diagnostic Tool,G-Scan price