Description
MAN CATS 3 III T-200 DIAGNOSTIC  SYSTEM KIT  WITH WIFI Tester Communication Interface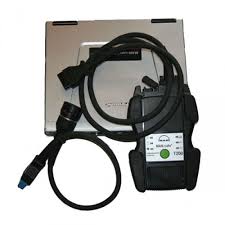 T200 is an expanded vehicle communication interface with ISO22900-1 compliance. VCI also supports the interfaces SAE J2534-1 and J2534-2. It can be optimally configured for applications such as vehicle function test, bus monitoring, measurement value recording/data recorders, diagnostics, calibration, script-based production checks, control unit reprogramming, control unit simulation and much more.
MAN-cats II is an external diagnosis system with the most extensive test depth for electrical systems in MAN commercial vehicles. This Dealer Level diagnosis system is ideally suited to use in a workshop as well as mobile usage.
---
We present you the MAN-cats T200 diagnostic kit , which has been designed for comprehensive diagnostics of MAN and Neoplan vehicles .
By equipping yourself with this type of device, you will be able to carry out diagnostics of vehicles of the two mentioned brands at the same level as authorized service centers of the given brands .
T200 diagnostic interface ORIGINAL
OBD2 CABLE 16pin
12-pin ROUND CABLE OLD CAR
Network | LAN CABLE
Smart Card
Panasonic CF-53 laptop
Panasonic CF-53 Laptop Specification:
Processor: Intel I5

RAM memory: 4GB

SSD

 

Battery with a working time of ~ 3h
• MAN-cats III  v15. xx [2021] (Development level)
• Smart Card
• MAN-cats III v15.xx [2016]
• MANTIS [2021] (spare parts)
• MANWIS [2021] (workshop and repair manuals)
The presented tester allows you to diagnose:
engine
brake system
air conditioning system
suspension
central computer
steering system
and a lot more
Examples of diagnosable systems:
• Electronic brake systems (EBS).
• Electronically controlled air suspension (ECAS).
• Engine regulation (EDC).
• Retarder.
• Gearbox.
• Air-conditioning systems.
• Central computer.
• Instrumentation.
• Door module.
• Airbag.
• And much more.
Possibilities of use:
• Simple testing of actuators.
• Visualisation and assessment of current sensor signals.
• Identification of control unit in assembled condition.
• Depiction of all stored diagnosis entries.
• Fast orientation on vehicle by means of integrated overview wiring diagrams.
• HD-OBD scantool (Heavy Duty On Board Diagnosis), read-out and presentation of data relevant to exhaust gas.
Setting customer specific parameters programming like maximum speed allowed
For special programming you can order Developer Tool software.
---
MAN-cats III – MAN-computer assisted testing and diagnostic system. This special tool gives user the greatest possible test depth for vehicles, bus/coach chassis and engines for installation. The compact system is ideal for workshop use and mobile use. MAN-cats is mobile, easy to use and has durable components.
Supported all MAN and Neoplan vehicles for:
• Diagnostic.
• Monitoring.
• Calibration.
• Tests.
• Parameter programming.
Supported languages: English, German, French, Italian, Spanish, Russian, Dutch, Polish, Swedish, Turkish, Czech, Portuguese, Romanian, Norwegian.